| alt.surfing@google groups | AS FAQ | AS Hub [DIA] | AS Points | Close Encounters FAQ | AS 2.0 (Forum) |
---
Close Encounters of
David "NZed" Wilcock
Lyall Bay Longboarder
Wellington, New Zealand


Home page:



---
"Which posters to alt.surfing have you met, surfed, or tripped with, where and when?"
---
My first Close Encounters with AS'ers was...
Jose "Dos Zapatos" Borrero Visit (July 2002). I met up with Jose here in Wellington NZ. He was here for a conference. So I met him at the airport and took him around our rugged south coast and introduced him to Wellington. I showed him Lyall Bay which is my local beach break...next to the airport runway which can break quite nicely when the conditions are right. I was particularly interested in feedback from Jose on the proposed Lyall bay reef. [http://www.lyallbayreef.org.nz] Unfortunatly the weather conditions were not all that good and a southerly front was crossing....bringing high winds ...so understandably Jose took the option of going north to pick up some waves in Gisborne.

November 2005 - Goldcoast Australia - Coolengatta. Arrived on Sat late at night and stayed with Mrs NZeds friend in Brisbane....Couldnt wait to go surfing...was checking the reports daily. Finaly we leave on the Monday and decide to take the opportunity to take the kids to The Australian Zoo..north of Brisbane...not exactly the right direction...in fact in the opposite direction to Coolengatta. The plan was to get to Coolengatta early enough to miss the rush hour traffic and meet up with our friend XPEH.

We arrive in Coolengatta aprox 5pm and called XPEH.... before I could say surfing ! we had arranged for a get together. XPEH came over to the appartment and brought over a suprise in the form of a toast... Cognac. We immediatley hit it off and we arranged for an introduction to the area and arrange all lifes necessaties... i.e., a surfboard and of course the surf !

Wednesday... Surf Day at Dbah... arranged to score a 10ft longboard. (not the best board for the conditions ...prefered a smaller board ). Dbah was pumping with some waves head plus.... and offshores galeforce late morning afternoon. Apart from almost running over XPEH .....all was well. Not to forget to mention the liason with a dolphin which was a suprise to see in the line up. A great day.... surf ....a family get together for the evening for a BBQ in the evening.... and jam on the guitars in the evening. Great people great company.

Thanks for the great day... XPEH.

We are looking forward to the official ASer meeting downunder ...myself, XPEH, tyuben, riq, Friday night for a BBQ. Thursday's looking good for surf...

November 2005 - The Great Australasian Caveron Guadapalloza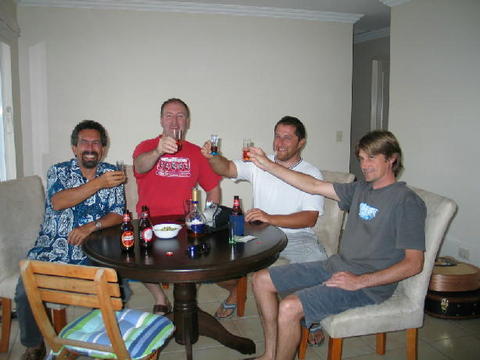 Cheers to the Cavrona Palooza! Pictures and story here
---
For additional NZed bio info click here.

---
AS Points Log: I have...
... met the following ASers
...surfed with these ASers
...traveled with these ASers
Jose "Dos Zapatos" Borrero
Riq de Kneelo
TYubin

XPEH-Australia



3 x 1 point =
1 x 2 points =
0 x 3 points =
3 points
2 points
0 points
---
Forward your Close Encounters to the Close Encounters Points Keeper .

The AS Hub used to be found at http://altsurfing.org/ but the domain name ownership lapsed. Blame lemmings!