.
| alt.surfing@google groups | AS FAQ | AS Hub [DIA] | AS Points | Close Encounters FAQ | AS 2.0 (Forum) |
---
Close Encounters of
XPEH of Australia
Goldcoast Shortboarder
Coolengatta, Goldcoast, Australia

R.I.P. Alex Pikus, May 2009
Age: 42




That's me on the right!

---
"Which posters to alt.surfing have you met, surfed, or tripped with, where and when?"
---
My first Close Encounters with AS'ers was... T. Yuben. Followed by Alvin, then NZed and Riq.

An Encounter with Alvin. Who is Alvin really?

well, this is the 64 million dollar question isn't it, girls?

let me tell you ... alvin is an interesting character ... he enjoys a drink as much as he fancies a phatty ... if you wish he can send you on a nice psychodelic trip on some home grown shrooms perhaps that explains the bright colored shirts (hawaiin pirnt-like) that he wears, nice effect alvin :)

he also appears to me happily married with a nice daughter ... his wife is an american ex-model ... they celebrated their 21st anniversary on the gold coast ... so everything seems cool on the family front ...

during a fish and chips session he called bali and spoke indonesian ... sounded like a bum_book to me, but i do not speak anything but russian and spanglish ... local chief of police seemed really happy (on the other end of the phone call) to hear from him and agreed to send bodyguards for alvin's
arrival back to bali ...

alvin and i shared a few phatties and had a couple of drinks, had fish and chips and some oysters it was good time ... at the end he was in a rush to get down to sydney before going back to bali ...

this is all i know ... may be T. Yuben can add a word or two ... in general i enjoyed alvin's visit and look forward to seeing him again.

p.s. alvin whenever in NZ i'm aiming to check out Taranaki hope you have some time to roll me a tight one :)

November 2005 - The Great Australasian CavronaPalooza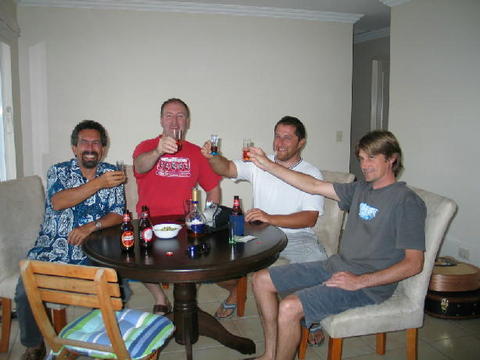 Cheers to the Cavrona Palooza! Pictures and story here
---
Ok cavrones this is a few days back but still fresh in my mind ... during NZed's visit we had some fun as follows:

Day 1 - Wednesday of week before last ... surf OH and building, winds offshore but on the strong side and coming from SE ... NZed and i an paddle out at d'bah ... getting out was easy bicep burn factor 0 (out of 10) no drift, but the wind is gusty and does make it harder to get into the wave ... swell angle was a bit off too ... swell comes in as massive A-frames with nice rights and lefts, but on the hollow side ... i took a left and was paddling back out ... got almost to the sandbar when a sizy set started to break ... who do i see dropping in on a hollowed out left and racing right towards me? NZed on a 10 foot board ... wholly shit! i thought, he is definitely gonna kill me ... but the bugger wipes out right before he gets to me and only our boards kiss as we avoid all personal contact and injury ... we had a laugh about it and paddle back out ... siting waiting ... all of a sudden a huge clean-up set rolls thru ... all i see is NZed and his board tumbling backwards ... i am looking towards the inside to make sure he is ok when all of a sudden i feel myself starting to go over the falls backward ... i neglected to look out and ended up being thrown over the falls myself ... aside from all the wipe outs it was a fun day ... i walked away with 2 overhead lefts and three fairly long rights.

Day 2 - Thursday ... dawn patrol 6 am ... rode my bike over to NZeds rental ... he was all ready ... paddling out at Snapper Rocks ... surf was well overhead and light off shores ... got thru the break but drifted over to Greenmount point ... it was breaking into perfectly lined up rights ... several waves per set and many sets ... this was one of the finest swells that hit gold coast in a while ... NZed and i both scored at Greenmount and coolangatta beach ... the wind stayed off-shore all day ... but i had to run to work and NZed took the kids to Seaworld.

Day 3 - Friday ... even earlier dawn patrol ... met at 5:30 am at Snapper ... surf about HH and smaller down the beach ... i lucked out at the point and got a couple OK rights ... NZed continued his Greenmount attack ... with rolling rights ... it was not as good as the previous day but still well worth the early AM paddle.

Day 4 - Saturday - NZed had to pack and check out of his hotel, so i paddled out on my own ... dawn patrol 6:30 am ... d'bah was glassy and perfect hollow A-frames ... one long boarder who weights about 300 Lbs and rides a 12 foot thick board took all the outside peaks ... it was beautiful to watch ... the rest of us shortboarders took the hollow insiders ... it was a fun session.

Finally today, Saturday Nov 26 ... dawn patrol 6 AM at d'bah ... almost no crowd ... waves are barrelling rights with perfect glassy form ... see-thru water that breaks into light green-to-clear walls with long right shoulders ... it took me a while to find a wave as the swell angle was steep right and some waves were (honestly) too hollow and making it was questionable ... a few brazilians from the local mafia took them and survived so i reckoned WTF i may as well ... took one right which broke on the inside sandbar with about waist deep water in front of it ... survived!!! ... that was the toughest wave of the day for me ... after that initial barrel the rest was cream cheese ... took some outsiders which broke slower and man were they racy rights ... so choice!!! ... on one wave i saw a light green curve out of the corner of my eye rising above my head right as i was dropping in and i heard that "swoosh" as the wall was right by my ear ... "here we go" i thought to myself ... and here it went ... love that site as you drop in
with the wall already standing in a curve above head ... the waves i rode this morning stayed with me thru the entire day as i helped the Mrs. deal with some obligatory social engagements ... and while all the land walkers were buzzing over their 'all you can eat' lunch at the local bowls club i was just sitting there all stoned with this morning's images still firmly burnt into my eyes ... all i was seeing were these green walls ... what a day!!!
---
Twenty-Five Random Mutterings from 2009:
Wednesday, February 11, 2009 at 7:06pm

1) i was born in Minsk, Belarus, CCCP

2) i believe in god and guardian angels and pray to them frequently, my experience points to their existence ... some of my prayers get answered

3) i am not into the material world and at times find it hard to fit into the 'norm'

4) i believe that in one of my previous lives i was a dolphin

5) i am more of a right-brained person, i like creative expression ... however i have spent many years in left-brained activities, i excelled but was not happy

6) i tend to be extremely liberal in my believes, i was (partially) raised by a lesbian aunt, i am convinced that everyone has an equal and welcoming place under the sun, if left to my own demise i would be a hippy

7) i play guitar and write my own music

8) i fantasise about living in a camper/van, travelling around Australia, playing guitar and surfing

9) i love camp fires, their smell and food cooked on them

10) i eat my meat well done ... charred!

11) i am extremely shy and tend to avoid crowds ... i prefer one-on-one contact

12) i ALWAYS take the side of the underdog

13) i tend to be a contrarian and frequently do things to prove exceptions to the rules

14) i despise slavery, exploitation ... i tend to believe that capitalism is flawed in its treatment of the masses

15) like Timothy Leary, i believe that man is born to play and not work ... especially in cubicles

16) i regularly eat raw fish and oysters ... i can eat 500 grams of raw tuna in a sitting

17) more often than not i act out of my subconscious ... i am learning the 7 second delay (before i act/speak)

18) everyone who has ever worked for me (i managed) seems to really like me ... i am good mates with most members of my previous (work) teams

19) my biggest fear is loss of freedom

20) everything i own aside from my surfboards and guitars will fit into a suitcase

21) i'd rather go topless than be fully dressed

22) i can not live without the daily dose of sun and ocean on my skin

23) i do not like alcohol and feel it is a poison, but i do drink socially, sometimes

24) august (in northern hemisphere) and february (in southern hemisphere) are my luckiest months ... good things always happen to me then ... i was also conceived in august :)

25) i was told by a psychic that in my previous life i learned how to love
---
Rest in Peace
Alex was born on 27 May 1966
He died just a week before his 43rd birthday.

---
Hi everyone.
Just got word (May 21, 2009) and I am about to contact his wife Sarah. Alex passed away today from a suspected heart attack. I met Alex only once while I visited Australia but he left a lasting impression. Passion for life and passion for surfing. Making his new life on the Gold Coast of Australia. He loved his music and playing his Les Paul electric guitar ....Stoked on music, waves and his family. What a character he will be missed by his wife and his two children not to forget the many friends he had in his life. Thinking of you Alex, may you surf forever.
NZed

Alex (xpeh) did bring joy and laughs around here.
always friendly and outspoken.
Best to the family in a time of sorrow.
Hope he finds perfect waves in the sky, with the ultimate sh!thouse
nearby.
lp

Heartbreak. How old are the children? Do you have an address to send something? XPEH was an every time read on AS, it was all stoke.
Mike Sully

Bummer. RIP.
Turby the Turbosurfer

So bummed to hear this! RIP, praying for his wife and kids.
td

Sad to hear it, he seemed to be one of those guys that would be good on a surf trip. My condolences go out to his kids and wife; I'll grab a couple waves this afternoon in memory.
Andy

Dreadful news. Dreadful. Alex was stoke personified and I treasure my Skype conversation and chats with him (thanks to NZed). He left us far too young. Damn!
"Goodnight sweet prince. And flights of angels
sing thee to thy rest."
Requiescat in pace
Feigel

Much, much too young to be gone. So sorry for his wife and kids. Hope they find the strength to pull through such an upheaval in their lives. He seemed like a strong-willed, smart and funny guy--wish I could have met him. Always read his posts here and they often made me laugh.

Vaya con Dios, hermano!
TT

His Xpeh-speak was great stuff, a kinda anglo/russo/iberian code. And
always the big olas. I still don't know if "olas" is waves or balls!
Kev

Shocking news. At first when he said he was taking off for Australia and living his dream I thought he was telliing another fun story. He had the courage to go for his dreams. He was full of stoke for surf and life. My heart goes out to his wife and kids.
_George

What a great loss.
He was a really good guy.
So sorry for his family.
See you someday at that great pointbreak in the sky, you crazy roostah
sockah mothphak.
Surfer Bob




---
AS Points Log: I have...
... met the following ASers
...surfed with these ASers
...traveled with these ASers
Alvin
Riq de Kneelo
NZed
T.Yuben


2 x 1 point =
2 x 2 points =
0 x 3 points =
2 points
04 points
0 points
---
Forward your Close Encounters to the Close Encounters Points Keeper .

The AS Hub used to be found at http://altsurfing.org/ but the domain name ownership lapsed. Blame lemmings!