| alt.surfing@google groups | AS FAQ | AS Hub [DIA] | AS Points | Close Encounters FAQ | AS 2.0 (Forum) |
---
---
"Which posters to alt.surfing have you met, surfed, or tripped with, where and when?"
---
Met and surfed with Tim M. and Ric H. as well as on their surf trips to NorCal. Met and surfed with John A. at that time, as well.

Met and surfed with Robert "Surfer Bob" Taylor on my road trip south at C Street.

Surfed with Gilberto Mediero-Ribieros (he only posted a couple times to alt.surfing) at the Lane.

Met and surfed with Steve "da Hulk" Hull and Mike "Moodykopp" at the Hook and PP several times.

Met with Andrew of Capitola.

I met up with Lloyd Pollock at his place in Pacifica which has a nice view of Rockaway Beach from his backyard. Can't get much better than that for the winter surf checks! We headed over to Linda Mar for a typical summer weekend surf sesh.

I surfed with Dyer Crouch out at the Lane several times in Winter '98/'99. He's currently doing the baby thing but should return to alt.surfing soon.

Foondoggy came to San Francisco and Scotts Valley on his annual visit for a business conference and to see family. He showed his nephew a thing or two about sponging at Manresa. While we were in the water at the same time, we didn't know it. We were both at the beach to watch 'Da Hulk surf in the annual RIO surf contest held at La Selva Beach.

And finally met and borrowed a 10' Eaton longboard from Ryan Randall. He still lingers around but haven't heard much from him either.

I surf-tripped with Tim Maddux to Baja -- see the report at:
http://scsurfers.com/pics/baja-20001219/baja-200012191.htm

I've also surfed with Luis (Lou) Mejia at Pleasure Point and the Lane; and, Jeff Kaplan at Ocean Beach.

I met John Singer as I was exiting the Hook and he was hopping in.

The PanamASolas trip -- visit G's PanamASolas2000 -- Panama surf trip to Morro Negrito Island - with 15 strangers. June 3 through 10, 2000. These included: John Ferguson (Florida), Tim (Florida), JB (Texas), Mark Sisom (New Jersey), Clay (New Jersey), Egosurf, Surfgeo (Texas), and Doc (Cape Cod).

I've been in the water at the same time as a couple others but didn't know it.

In August 2001, I surfed with Gamivia Duke, ESQ during his visit West. We hooked up at Ocean Beach to surf chest high VFW's with Dave Blake, Glenda Carroll (both add points), Lloyd, and Jeff.
Good times all around... Also, I surfed with Ryan Randall out at Pleasure Point...nice summer day.

In December 2001, Tim Muddux joined kdalle, G, lp, Dave Blake and me for a surf at OB/SF. Definitely was a fun time! Here's my version and some pics from the session. John Singer and I
(and lp) surfed Ocean Beach not too long ago on a crappy wind blown pre-storm morning, at least we caught a couple waves and enjoyed a post-surf breakfast.

June 2002. Gioni filed the following trip reports where he met Tom Keener, Terry Hendricks, and Joanne VanMeter; and, surfed with Bill Andrews, Dan King, and Tom Tweed.
SoCal Trip - late June 2002 (Part 1) (Part 2) (Part 3)


Gioni and Sully @ The Gallery/Santa Cruz - October 2005. Met up with Sully (professional bodysurfer, err...wrong Mike S.) who was in town to test his theory: Banana Slugs can really swim. Good times...but my stinkin' feet are sore trying to stuff 'em in those fins. Thanks for the loaners.

The Gallery: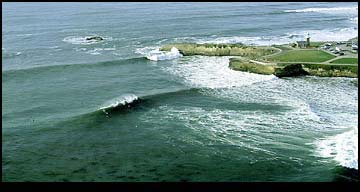 Sandwiched between the shortboarding hoard at the Point and the longboarding Middle Peakers, we made ourselves at home on the leftovers that wedged up for a nice 6 head's high 25 yard right. Not a lot of sets to choose from but a good intro to the Lane for Mike and a fun redux of my (lack of) bodysurfing skills. I managed 2 good rides which was quite surprising, and probably my longest bodysurfing rides ever. Most of my experience is limited to slam dunks on the shorepound as a youth.

Trying to take a stand in the lineup, Sully ran over a kooky shortboarder, showing him who was boss. The boardsurfer mistook him for a great white and poked Sully in the eye...

He had to split after an hour so I grabbed the 10 footer and paddled into a few nice just overhead sets at Middle Peak. Mellow crowd of mostly beginners so it was easy to grab the best set waves with some positioning. Another enjoyable day in the water.

Steve "The Mind" Visits OB/San Francisco - Dec 2005. See lp's report.
---
Other Items of Interest
www.pacificwaverider.com, where Gioni is a regular contributing columnist .
---
AS Points Log: I have...
... met the following ASers
...surfed with these ASers
...traveled with these ASers
Foondoggy
Joanne VanMeter
Terry Hendricks
Tom Keener
Andrew
Bill Andrews
Dan King
Dave Blake
Dennis
Dyer Crouch
Gamivia Duke
Gilberto Mediero-Ribieros
Glenda Carroll
Jeff Kaplan
John A.
John Singer
Lloyd Pollock
Luis (Lou) Mejia
Mike "Moodykopp"
Mike "Sully" Sullivan
Ric Harwood
Robert "Surfer Bob" Taylor
Ryan Randall
Steve "da Hulk" Hull
SteveM
Tom Tweed
Clay (New Jersey)
Doc (Cape Cod, Mass.)
Egosurf
JB (Texas)
John Ferguson (FL)
Mark Sisom (NJ)
Surfgeo (Texas)
Tim (Florida)
Tim Maddux
4 x 1 point =
22 x 2 points =
9 x 3 points =
4 points
44 points
27 points
---
Forward your Close Encounters to the Close Encounters Points Keeper .

The AS Hub used to be found at http://altsurfing.org/ but the domain name ownership lapsed. Blame lemmings!