.
| alt.surfing@google groups | AS FAQ | AS Hub [DIA] | AS Points | Close Encounters FAQ | AS 2.0 (Forum) |
---
Close Encounters of
Drew "DaGriz"
Surfside Bodyboarder
Houston, Texas



Homepage: DaGriz' Place
---
"Which posters to alt.surfing have you met, surfed, or tripped with, where and when?"
---
My First AS Close Encounter: Met and surfed with SurfGeo and JB, got to hang with the Kirra Surfriders at D-bah for a day back in Aug.

AS Party at Tom Keener's - March 2003. "That's right - it's party time. Alt.surfing's Drew and Glenda are visiting SoCal, so we've got to have a party." ~TK. Pic posted at Joanne's site: Pic 1 and Pic 2.

GuidoPalooza 2003. More at the GP2K3 page.


GuidoPalooza 2005 (Sept 10-17, 2005). This year's GP trippers included KC Filer, Neal Carver, Myron, DaGriz, Rick Miale, PaipoJim, Rod and Tom Duncan. Non-ASer guests included the wives of KC, Rod and Tom Duncan. See the GP2K5 Trip Reports and Pics and a pic of several in the group. During GP-Extended, PaipoJim and Rod drove down to the DelMarVa before sunrise, surfed Assateague, and then went over and shared stories and refreshments at the FoonBunker. The next day PaipoJim and Rod caught waves in mid-Ocean City, along with fellow-GP'er Gile Cook, continuing the Ophelia Fest started down on the OBX.


Coming Out in San Francisco - March 22, 2006. Yesterday was a hoot. I had stopped at "monty's" on the way up to take a look and gulp,... there's some waves out there. Got to Rockaway, found Lloyd and checked it from the parking lot. I could feel the butterflies fluttering... or was it the kittens meowing, not sure. Any way Lloyd's like let's hit it and I'm like ok ( what am I getting myself into here) but it is a nice setup.


We suit up and make the walk over to the south side of the cove to take the rip out. Outside in no time, duck one wave on the paddle out, chill factor is not too bad. Right away a big one comes my way and I hesitate and missed what turned out to be a nice right. Ok so now I'm pissed at myself for letting a good one go.

My first wave is about a head and a half left. Make the drop and have a nice shoulder ahead but I remember that I don't want to go to far in and pull out. Mistake, should have continued on and rode the wave in and let the current take me back to the rip. Instead I face a nice couple of set waves... or the remains thereof. Get rolled but manage to hang on to the board.... ride slop in and take the rip back out. I'm feeling good now, little confidence and am beginning to think I can handle the conditions... silly me.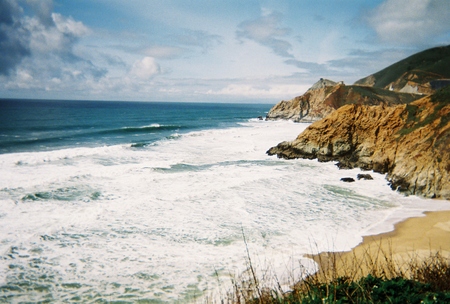 Try for another wave and miss it only to turn back to sea and find a 2X monster about 20 yards outside of me jacked and about to explode. I panic for a second and turn towards shore and then regain my senses and turn back and duck. I bear hug my board and am spun so I don't know what way is up. Make it through the first one but the second rips my board from me. I get to the surface and my board is about 15 feet away but no way I can get to it before the next wave. So I figure I'll make the swim in and collect it on the beach. Few more waves on the head and I'm feeling it... lungs burning but I'm ok.

Swimming in back stroke fashion so I can keep an eye on the waves and I see Lloyd with my board.... what the f&ck?? If Lloyd hadn't been there my board would have gone out to sea in the rip. Get my board and I'm like I'm going in for a rest. Lloyd catches one and I think he's heading in and I'm a little inside of where I want to be... I don't want to have to duck another big one. Fortunately it's a bit of a lull and I manage to get a tweener in before the next set...

I'm a little sore this morning but am amped to hit it again. I like the setup at Rockaway and will head there this morning. The Mrs.'s training ends today about 3 pmish so I'll have to get in my surf and hit it back to Belmont by then.

Stoked!


Other Items of Interest
I maintain the Texas Chapter of the Surfrider Foundation web pages.

---
AS Points Log: I have...
... met the following ASers
...surfed with these ASers
...traveled with these ASers
Craig Kemnitz
Glenda Carroll
Joanne VanMeter
Jose Borrerro
Tom Keener
Tom Tweed
JB
Lloyd "lp" Pollock
Surfgeo
Edmund
Foon
KC Filer
Myroni
Neal "Right Coast" Carver
PaipoJim
Rick Miale
Rod Rodgers
Tom "td" Duncan

6 x 1 point =
3 x 2 points =
9 x 3 points =
6 points
06 points
27 points
---
Forward your Close Encounters to the Close Encounters Points Keeper .

The AS Hub used to be found at http://altsurfing.org/ but the domain name ownership lapsed. Blame lemmings!